(The following was originally posted on my Carepages blog for family and friends during my treatment.)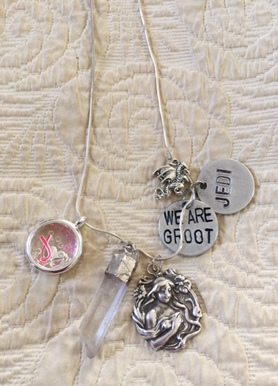 Back in February, I took off my twelve rings and earrings for my two surgeries. After, I couldn't get them back on. (Water retention) But more than that, they felt too heavy on my hands. My old self decorated her outfits like a Christmas tree, always wearing multiple bracelets, necklaces, maybe a pin or two. And of course, the rings and earrings which I never took off. I explained to Tim, even carrying my purse feels like a chore. I don't want anything heavy on. Heavy being a subjective term.
I did continue to wear my "crutch" necklace. What's a crutch necklace? Back last summer when I had a lot of issues with anxiety (which seems to have become some 80-90% better post-BC) I read that sufferers often need a crutch. It might be a person or a thing. "As long as I have or am with _____ I'll be fine."
My crutch started out as my stainless essential oil diffuser necklace along with a sterling mermaid Tim bought me in Amsterdam. After Christmas, I added an "I Am Groot" medallion (from Mark, saluting our favorite saying from the movie Guardians of the Galaxy). Later I asked him to make me a second one "Jedi" (Star Wars being core to Matthew and the whole family). Along the way, I've added a few other trinkets (a crystal, a dragon charm, and a breast cancer tiny charm sphere from Tim's mom). So as I trek off for bloodwork or chemo or any of my other adventures, my family goes with me in spirit. It may be a crutch, but it's also a piece of my heart.
But I started missing my wedding ring. I put it and my anniversary band back on this week along with its opposing mate on my other hand. It feels good having them back on and I may put my earrings back in as well. I'm not ready for all twelve, but a sign that a little bit of my old self is under there someplace is a good thing, I think.
I've gone through a lot of shifts these past few weeks. I've shaken off a lot of dust. I feel like the universe is saying it's okay to integrate and knit the old and the new me back together.
PS: I want to add that I am grateful for each and every one of you. Thank you for standing with me and for your encouraging messages (both on and offline). Also for those of you who have also taken my messages to heart and tried new things, I congratulate you for being brave with me. We got this. "We are Groot." Which for those of you who don't know, it's kind of like saying we are an eclectic team who stands together through thick and thin.
PSS: I have now had chemo #4 - the supposed halfway mark. I see the oncologist on May 1st.