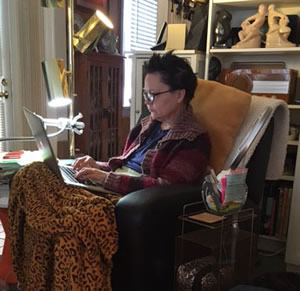 (The following was originally posted on my Carepages blog for family and friends during my treatment.)
I haven't sat at my desk in probably two to three weeks. . . I mean really sat there and did work. (Still haven't. . . in case you're wondering.) It's funny the things I find there, and how their meaning has changed. Found hand-written notes about things I'm supposed to do or had been working on, odd bits of meaningless mail to review in the future (most of which just got tossed away), projects I had been working on - now canceled, put aside, or to add to some forgotten list for yester-morrow.
I'm also collecting other random things. . . an angel worry stone, a monarch butterfly, cards, dragons. I had a dream the other night where little flappers kept turning and each one was a piece of randomness of my life. Weird. Then last night, a sweet dream where I was playing with some children with a little playhouse of sorts and Kris Seastead came in. It turned out we were at Louise Hay's house (imagine) and she had all this specially prepared food for whoever needed it, but also took time out to integrate what the children were doing. Everything was intermingled out of doors.
I find everything is kind of cloudy. . . my spelling sucks (text recipients have confirmed this! LoL). My fingers don't work fast enough or something. LoL. I am at slow-slow-slow speed. My brain must be just a notch up from that as thoughts come out incomplete. (Nothing is happening fast.)
Today we ran errands ahead of a coming snowstorm, plus had my first bloodwork. That part went quick. (No results yet.) Went to Max & Erma's and some of the pharmacy gals were up there. Of course, they know us by name. (There's no hiding in a small town.) Like the randomness of everything else, I've found I collect leftovers. I don't eat a lot. One dinner out meal might be 3 meals for me.
Tim stopped and got me some Entenmann's chocolate covered donuts because, you know, it's the little things that mean a lot. (yum) A few bites before bed. . . just like when the boys were little.