(The following was originally posted on my Carepages blog for family and friends during my treatment.)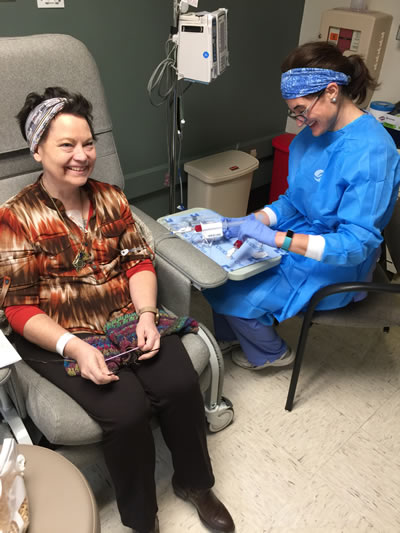 Tomorrow (Tuesday), I return to UPMC/Hamot for chemo treatment number 2. . .
I see this as a half way to the half way point because I am slated to have four treatments of cocktail #1 and four treatments of cocktail #2. This will be the second of the first four. (I'll take my victories wherever I can get them.)
Today I went in for my blood work and a visit with the staff PA. My blood reports are all good. I have a handful of side-effects, all are minor in the scope of things and are common. I also started noticing some hair fall out in the last couple of days. They tell me this treatment will be the one to intensify that. (I did buy a hat. You have no idea how huge that is. I never wear hats!) I also have an awesome collection of scarves. I didn't know when I started collecting them at flea markets and as Christmas gifts that they might have such a valuable purpose. I'll have the best-dressed head in Erie county.
So say a few more prayers that the side-effects remain at the minimum, that the worst of the symptoms for treatment #2 are the same as treatment #1 (mostly I slept a lot), and I'll see you on the other side of the cave.