(The following was originally posted on my Carepages blog for family and friends during my treatment.)
Today I went to chemo school. I'm glad I went. It wasn't at all what I expected. Well, to start, we had been told, just go to the information desk when you walk into the hospital and they will tell you where to go. But the young security guard at the desk didn't know where it was. He got on the phone and started calling around asking people where I should go. Then a second young security guard showed up. The two conferred and since guy number two didn't know either, he got on a second phone and started calling around. Then a third security guard showed up (I can't make this stuff up). He also got on a third phone. All three were on the phone talking to different people trying to find out where this chemo education was supposed to be. Finally, guy number two told us to get on the elevator and go to the sixth floor. Turns out that was still not the right place, but we finally got where we were supposed to be. Seems there are secret sixth-floor elevators we needed to take. (At least we know now.)
Just as we were walking away from the security guards, all kinds of lights started flashing (remember what I said before about that?) and the security guards were called to a code red. We never did find out what that was all about, but the lights were flashing up on the sixth floor too.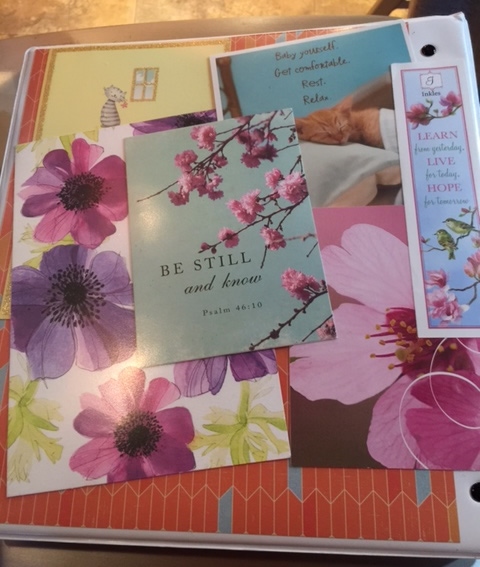 Once there, I honestly expected to be in a room with a bunch of people all asking questions and I wasn't really looking forward to that. But instead, we were taken to a private chemo room where we had a one-on-one with a super smiley happy nurse. Turns out they had all been doing chemo over at the cancer center, but (I think she said around Labor Day last year) they had started doing all the chemo at two of the area hospitals instead. (I'm doing mine at UPMC/Hamot.) So she explained all about what to expect, hour-by-hour, and day by day for the coming week. She made it sound almost easy.
She gave me a great notebook that was put together very thoughtfully with all kinds of great info and stuff you might need as a chemo patient. Even a calendar. (I can't wait to put big Xs on the days of chemo that are D. O. N. E. Of course, I had already made a notebook, so I brought that one home and added it to mine. Mine has all kinds of sayings on it like "Remember this moment," and "Life is a garden, so dig it." And a bunch more. On the binding it says, "Life's a Journey, Here We Go!"
Then we stopped over to see my MD who hadn't seen me since the 13th and a lot has happened since then. We were so pleased to learn that the girls in the office had dug through the archives and found my paperwork from 1985, something the cancer center had hoped to find. We hope they found all they need but were so-so grateful for the girls doing that for us.
So tomorrow is the B.I.G. day. . .