Marvelous Messages from Your Body:
A Step-By-Step Guide for Interpreting Pain, Injury, and Illness into Intuitive Guidance to Resolve Life's Difficult Challenges
What if you had a dream, something you'd longed to do for quite some time, but you kept putting it off.
Maybe you have no clue where to start.
Maybe you are unsure if it could ever even be possible.
Or maybe a barrage of life's ups and downs, including a variety of aches and pains, have stopped you from moving forward.
What if those ailments could speak directly to you, and in doing so, tell you how to achieve what your heart wanted in clearly defined simple-to-follow steps?
In this quick-to-read, 50-page book, intuitive Jamie Saloff walks you through the process she's used with clients to help them answer the call of their hearts.
There are many who have written about the messages waiting to be heard in your body. According to them, there can only be one explanation. Most offer no resolution. Others suggest a rote affirmation they claim will change your life.
Except they don't.
Years ago, I realized why their lists didn't work. They weren't individualized. Their explanations weren't based on me, on my unique life, on my personal experiences. I often felt as if their meanings were cold and impersonal—leaving me feeling disappointed, misunderstood, and facing, once again, the next blow and the next.
Instead, I learned how to decode my aches, pains, random ailments, and injuries into a personalized, unique-to-me message. These messages not only offered a reason for why the ailment had occurred but a solution for finding the clarity needed to pursue the longings of my heart.
Marvelous Messages from Your Body teaches you how to amend what's going wrong and how to make it right. You will be shown how your body's symptoms mimic your life's scenarios. You'll learn how to use these signals as a tool to resolve your life's challenges and accomplish your greatest heart's desires.
Get your copy of Marvelous Messages from Your Body today.
What Others Are Saying:
"I always relied on Louise Hay's affirmation book for insight into my ailments, but it often left me wanting. Jamie's process offered so much more as to how what was showing up in my body was happening in my life. After using her method, I could move forward, make decisions, and take needed actions to heal my health, my relationships, and my finances." ~Anita Pizycki, CPA, CA
"My session with Jamie felt like a FASCINATING journey through my body and my issues with chronic pain. She provided me with great insight as to how to move forward in the healing process, and how to "lighten my load." I seriously had one "Ah-ha" moment after another! After our session ended, I sat quietly contemplating what had been revealed to me through Jamie, and I felt totally empowered to take action in finding the balance needed to heal certain areas of my life. I highly recommend working with Jamie!" ~ Joy Phillips, OnceUponAnArchetype.com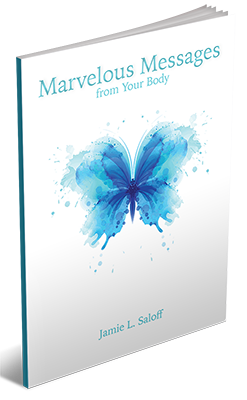 Available on Amazon.com and from other fine retailers.