Hatch – A Change Your Life Book

Now Available!
If you could, how would you change your life?
While bravely facing the motherlode of difficult life challenges, you never dreamt the result would be a soul-sucking, heart-crushing existence.
Although you try to ignore the emptiness, detachment, and feeling that you don't belong, you rarely make changes. It just seems too impossible for so many reasons. Instead, you silence your heart's nagging with self-sacrifice, food stuffing, or by becoming a workaholic.
Contemplating ending her life, Jamie Saloff chose instead to hatch a new one. She knows how self-doubt and unworthiness can cloud your ability to move forward after the darkness of grief, illness, trauma, or tragedy—because she's faced it too.
In Hatch — A Change Your Life Guide, Saloff walks readers through her step-by-step method to:
• Awaken your soul's purpose by listening to your heart's voice
• Find confidence in your next forward step by hearing your body speak
• See messages of guidance everywhere by learning where to look
• Uncover your future in your past by examining your ancestral heritage
• And much, much more. . .
Are you ready to Hatch a life worth loving?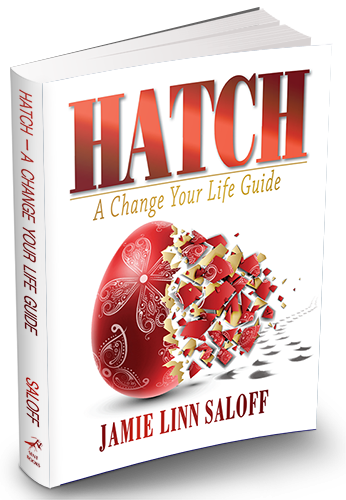 "It's a simple question 'Do you wish you could change your life for the better' while the answer is an easy one — do you have any idea of how to accomplish the task? 'Hatch – A Change Your Life Guide' gives you a systematic process that will take you on a journey of physical, emotional, and spiritual healing. . . . I highly recommend this wonderful and enlightening book" ~ Yolanda Renee
Originally published as Transformational Healing,
this new edition has been totally revised, updated, and expanded.