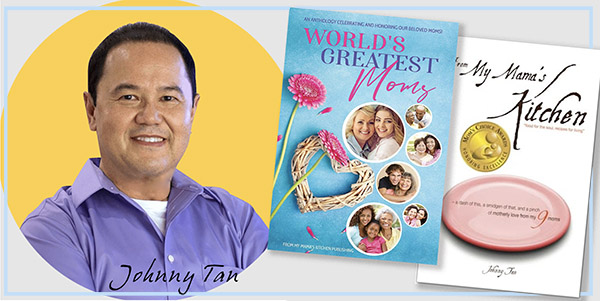 I'm pleased to interview Johnny Tan. I've known him for quite a few years through his From My Mama's Kitchen projects including his book by the same name. In it, Johnny talks about his nine "moms," good food, good friends, and so much more.

Whenever I speak with Johnny, I am always inspired because he comes up with so many ambitious ideas and doesn't just think about what could be, he follows through on them. He is a person who is not afraid to go after something big and accomplish it. Along that vein, I have asked him some questions to inspire you in your own goals and ambitions.
What follows is our interview. I hope you will be as inspired as I was and am.
Johnny, I remember your telling me about creating an Internet talk radio show to compliment your From My Mama's Kitchen— food for the soul, recipes for living book. The next thing I knew, you had amassed over a million listeners and booked guests, many of whom are luminaries in their field of expertise, filling your schedule months in advance. Your unique and new approach to today's conscious living and working intrigues me, especially your enticing popular, in-demand proprietary keynote address, "When Pot Roast Meets Sushi - Setting the Table for a Multi-Generational Workforce Conversation." I enjoy your refreshing use of words to engage and empower people.
I know you are also writing your second book to help people achieve their best selves and accomplish their dreams and desires. Perhaps we can get a sneak peek by having you answer these few questions to help us get a head start.
Jamie: How do you motivate yourself to pursue your goals and overcome a big challenge?
Johnny: Jamie, thanks for allowing me to share with you and your readers an essential recipe for living l learned from my 9 Moms years ago, the power of "Curiosity." The reason is, Curiosity turns chaos into peace. The clarity activates my creativity, giving me the courage to act quietly and confidently! Curiosity led me to fly halfway around the world four months after my 18th birthday to attend college at Louisiana State University. It also helped me map out a new trajectory for my life's journey when my father suddenly passed away a year later.
Over the years, I have learned that every plan in life is different. Each leads to its perfection, and every moment is a conscious choice. As I flow with life's rhythm, I utilize my Divine emotional intelligence skills to expand my "Bubble of Quiet Confidence" continuously.
The process led me to become a successful COO at 33 years old, by 2012, a multi-award winning and bestselling author, and now, on the cusp of publishing my second book, Resilience ~ Designing Our Life to Live and Perform in Our Genius Zone, in 2023.
Jamie: When you tackle a significant undertaking, how do you determine where to start?
Johnny: I always begin from within; "Passion is when the Heart creates, and the Mind formulates." ~ From My Mama's Kitchen®. All of my projects are heart-centered and passion-driven. They are also receptacles in nature and intended to be for humanity's greater good.
Next is finding the right collaborative partners using my "We" synergistic co-creation success formula of 1+1 = 3. "Team Success and Work Harmony Occur When We Allow the Best in Us Bring Out the Genius in Others!" ~ From My Mama's Kitchen®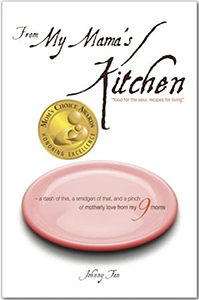 Jamie: Where do your motivation and drive come from? (Who or what inspires you?)
Johnny: Jamie, we are born with a unique fingerprint of Divineness. We are given instinctive traits, fears, passions, and desires that reflect our authentic selves. The summation of this multitude of ingredients makes us who we are.
Curiosity educates me about myself, others, and the world. The empowering ripple effect inspires me to live in the moment and celebrate successes when they occur. The perpetual synergy of success, harmony, and joy inspires me to continue to dream, achieve, and become!
Jamie: How do you handle and overcome setbacks?
Johnny: I remind myself that the past will always be a classroom for lessons learned. "Life Always Provides a Rearview Vision of Opportunities with a World of Possibilities that Lies Ahead." ~ From My Mama's Kitchen®
Whenever I need a boost to push forward, I turn to these words to rekindle my passion, "Faith Comforts, Hope Inspires, and Love to Empowers." ~ From My Mama's Kitchen®.
Jamie: Can you tell us more about the Genius Zone book you mentioned above? I know you are also working on a new project, the World Greatest Moms book. Please tell us about this special project. How can people get involved as contributing authors and sponsors?
Johnny: Thanks for asking. The essence of Resilience ~ Designing Our Life to Live and Perform in Our Genius Zone book, as eluded to by my 9 Moms and stated above, is that we all have a unique fingerprint of Divineness. As we learn to develop the Six Cornerstones of Self Mastery, we can create and enhance our bubble of quiet confidence, leading us to live and perform in our "Genius Zone."
The next exciting news is, to leave a legacy of love, From My Mama's Kitchen® is working on publishing the premier edition of the "World Greatest Moms" book to celebrate our Mothers' contributions to our lives, which are often taken fore-granted.
In honor of my 9 Moms, it is time for all of us around the world to give the recognition collectively Our Moms deserve and, more importantly, recognize that "Personal Success Begins at Home" as our Moms are the COO, if not the CEO, of their families.

This heart-centered and passion-driven book is excellent for aspiring first-time authors who can write a portion of the book and be recognized as published contributing authors. It is also a marvelous opportunity for published authors to share the endearing loving Story of their Moms and leave a legacy of love.
You can learn more on how to participate in Johnny's "World Greatest Moms" book by Clicking Here. You are invited to join in honoring our Moms for their "Unconditional Motherly Love" by Leaving a Legacy of Love.

Johnny Tan is a Social Entrepreneur, Founder & CEO of From My Mama's Kitchen® and the Publisher of Inspirations for Better Living digital magazine. He is also an experiential keynote speaker, executive career & life coach, mentor, talk show host, multi-award-winning & bestselling author, and REIKI Master Teacher & Healer.