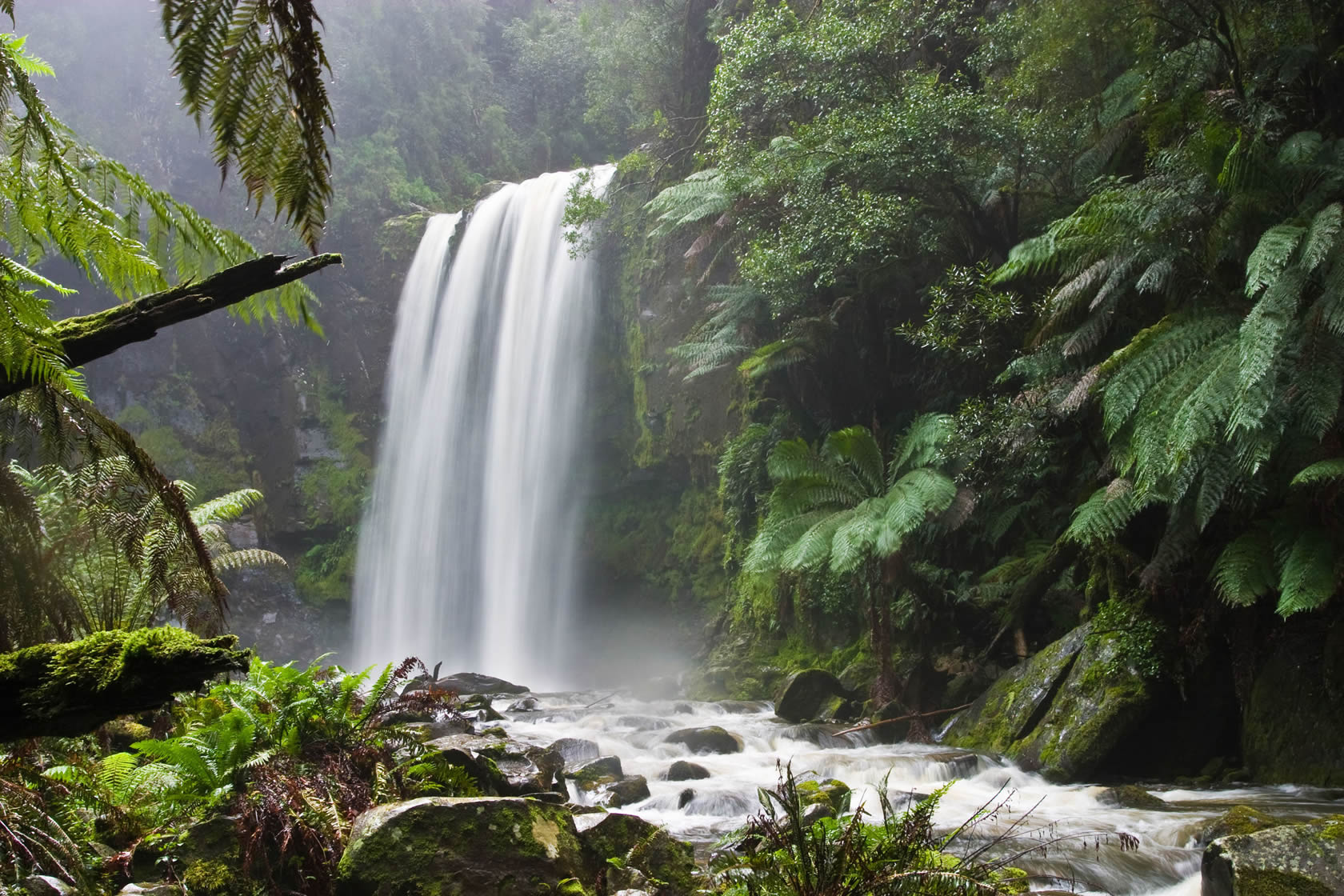 Are you in a waterfall year? If you are in a waterfall year it may feel like you were standing at the base of the waterfall with thousands of gallons of water rushing over you. Or it may feel as if you are caught in the river rapids above, racing towards the perilous edge of the falls. It may also fill your life with tremendous abundance and opportunities. Here's how I created my waterfall year.
Note that despite what the calendar may say, a waterfall year may begin several months before the calendar actually changes and may continue several months after or more.
For me, last year (2015) started out like a desert landscape. After a long, cold winter, even our yard felt desolate as the landscape lay barren, scattered with broken branches, dead plants that couldn't survive the harsh temperatures, and a general emptiness that beckons the call of spring. It truly represented how I felt inside as well.
Being that hubby's back fusion prevents him from doing much physical labor, I rolled up my sleeves determined to clean up the yard. What I thought would be a several-days event, turned into several months. Suddenly, I went from "I hate the outdoors" to someone who spent every warm spring day working the ground, planting, trimming, and sweating.
Somehow I no longer disliked digging in the dirt. Looking back on it, I needed grounded and being outside with dirt on my hands served to do just that. Something else was taking place, though. I was planting seeds. Not just the physical kind, but in a spiritual way. These spiritual seeds would soon blossom and grow into something amazing, but I didn't know what. . . yet.
As spring took hold, the plants did what nature programmed them to do, and while I loved walking the yard each day to see what had "popped" or what had changed, the yard no longer needed me the way it had earlier in the season. Something else began calling to me.
It started in the bathroom. . . well, actually, it started with a video I saw online here. And after that, one morning, I woke up, went into the bathroom, and with no other premeditation, I gutted it of everything except the essentials. Most everything else went to the trash, as that is what it really was. In fact, I still regret keeping two curling irons and three blow dryers, when I know I only need one, but I am, after all, still a work in progress.
This deep gutting and subsequent cleaning had an interesting effect. Every time I walked into that bathroom, I would smile. Seriously. A big deep smile would come over me, envelope me, and take over my whole body with warmth. What was this. . . smile thing? It's a frickin' bathroom, for God's sake. It became like a drug, an addiction, and I began doing this purging and cleaning all over the house.
The official name for this disease is called "KonMari," based on the book The Life-Changing Magic of Tidying Up by Marie Kondo. It took me some time to truly understand what she meant by "loving" what you have. In fact, my husband argued that I couldn't "love" things. . . until I caught him saying he loved a piece of pottery.
This thing-love, which, of course, is way different than people love or Godly love, comes with a side effect of happiness. Here's how to figure it out for yourself. Find something in your closet or house that you know beyond a doubt you cannot part with. It's best if you can do this with your favorite cozy-time fuzzy pants, threadbare nightshirt, or cherished stuffed animal, but whatever you find, pick it up, touch it, feel it all over. Take into your whole being the love you have for that item. Come to an understanding that you want to feel that way about everything you own, and if you don't, it's time to part with it. (I have yet to come to terms with this regarding items such underwear, kitchen utensils, and paper goods (toilet paper?) except that I definitely know when I dislike something, so I base my keepers on that.)
While spiritually-minded folks may tell you that you should be willing to let go of everything, that you shouldn't have any physical attachments, unless you're planning to live in a cave, I think it's okay to have a few things that you love. And that is the point of KonMari—clear your abode of everything except that which you love.
While I can't say I have fully accomplished this—I have oh-so-far yet to go—just clearing away the many things that I did left me absolutely giddy. GIDDY!
By the time fall had crept into the air, I found myself smiling at nothing. I felt lighter. Happier. Grounded. Hopeful. I didn't have a client in sight, nary an opportunity for one (and I wasn't even looking) and I felt wonderful.
Sometime between September and October, something shifted. After having come through the desolation and purge, the bounty of the harvest began flowing in. Except my harvest wasn't produce and other crops, my harvest was opportunities—and again, I had done nothing (to my knowledge) to produce them.
My BBF trekked out to Arizona in October to a Bob Proctor seminar. Despite her best efforts to convince me to go, I couldn't make it happen. I regretted that. I enjoy travel, love learning, and the seminar topic intrigued me. However, as I had purged my home, I had also petitioned God to send me whatever I needed. I had stopped buying programs and other things that I realized had become like the clutter in my home. I figured if I had been meant to go to Arizona, the way would have opened up to do so, and it didn't. . . or so I thought.
The week after, I received an email from my friend with a free-to-view lifestream link of the entire event. The catch? It had to be viewed within 10-days, and several had already passed. Did I really want to "attend" this event? I did.
I would wake up at 3 a.m. and go watch for a few hours. I spent an entire weekend watching, taking notes, listening, learning. During the day, I continued to keep up with client projects, which had also begun to pour in as part of the "harvest." Somehow I managed to watch it in it's entirety, with a few hours to spare. I began implementing the takeaways, the top three being:
- Make 90-second decisions. This, it turns out, must not be the answer to "can I afford it?" but rather, "is this in alignment with what my heart wants, what I need to move forward, and as part of the open avenues in front of me?" "Can I afford it?" on the other hand, is actually a lack of belief in self and faith in the Divine. If you are guided to do something, then also believe, look for, and expect, the resources to be provided and they will appear.
- Program the mind to the positive as to what you want to be, do, and become. See it. Feel it. (And my secret weapons: smell it and taste it.) Write it down and repeat it to yourself continuously. Oh, and be sure you really want it. (Just a warning.)
- Know that you were born with tremendous potential. You are not limited in what you can do except by your own boundaries and admissions. While a paraplegic will not likely become a prima ballerina, your heart will guide you in ways that will amaze you and open up opportunities you couldn't even imagine, if you let it.
These three principals—and more—led to my waterfall of opportunity, expectation, abundance, and joy.
Before I knew what hit me, I had flown to Atlanta to a speaker's conference and signed up for a year-long certification program. I had eight gigs booked and more opportunities flooded in. The doors opened to make the impossible possible, but more importantly, my heart opened to believe in myself and in faith of the Divine to provide all the resources I would need to be the best me I could be. Deep within, I knew that unless I took these steps forward now, I would never reach the ultimate heights I could obtain. The seeds I had planted earlier in the year were now coming into full bloom.
This waterfall, though at times somewhat overwhelming and scary (that is, if I try to take it in all at once instead of step-by-available-to-me-step) is also a renewed abundance in the possibilities available to us all when we believe and walk in that belief. The waterfall of abundance is also an amazing walk with the Divine.
If you are seeking abundance, heightened potential, and a leap forward into a deep-seated fulfillment, seek out your waterfall.


Image Credit: WikiCommons, Diliff, Hopetoun Falls, Victoria, Australia