I'm a sucker for an easy-going, fun-to-read, cozy mystery. Even better if the protagonist has a psychic connection. I've been enjoying A. Gardner's The Southern Psychic Sisters Mysteries (boxed set, season 1). The lead character, Ember, is a psychic numerologist, Aqua, a pet intuitive, and I'm particularly fond of Stevie, a heavily-tattooed, somewhat grumbly medium, who is portrayed as one of the good guys (not the stereotypical, fake scammer). All of these are right up my alley!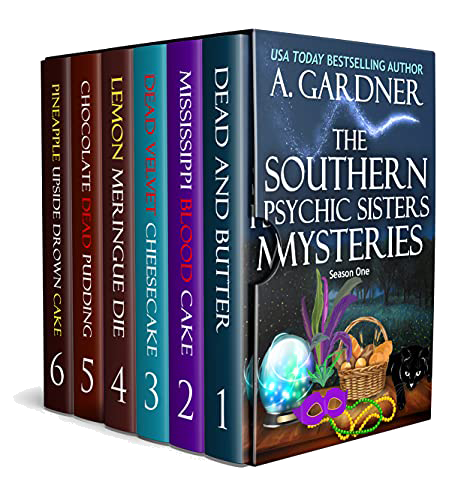 I was hooked from the first page of book one, Dead and Butter, where we are teased with a letter from the "Clairs." In Gardner's magical and psychic world, each group has its own branch and governing body, all of which are somewhat monitored by the Clairs (the psychics). The regular people (that's muggles for those of you who are Harry Potter fans) in Gardner's world do not know any of this, nor are they aware of the Shifters (werewolves), Vampires, Witches, Valkyries, Zombies, or any other psychic phenomena. It's up to the Clairs to keep it that way.
Of course, we're talking about a cozy mystery, so there is always a dead body (or two) along with cake, cookies, and other goodies. (Stevie runs a bakery.)
I so loved these stories that I got really brave and wrote to A. Gardner asking if I could interview her. (She said yes!) Here are some things she had to say about her writing life.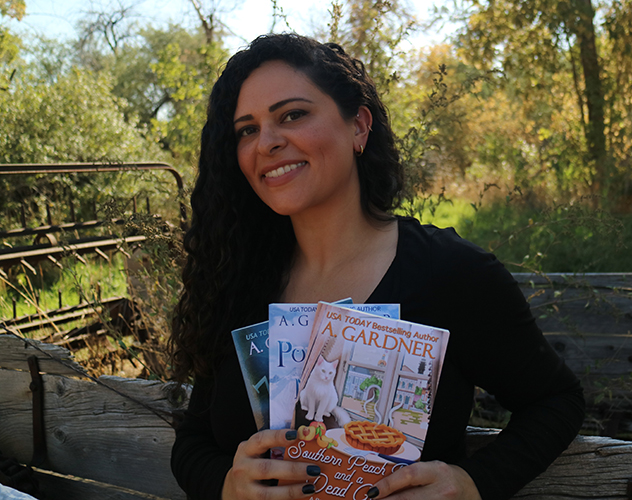 JLS: How long have you been writing?
AG: I finished my first manuscript in 2010 and I've been writing ever since. It started out as a hobby but now I'm beyond grateful that I'm able to support myself with my writing. I completed my first manuscript in 2010 and have since written over a dozen more. In 2014, I sold my first book in the Poppy Peters mystery series to Gemma Halliday Publishing. My debut cozy mystery, SOUTHERN PEACH PIE & A DEAD GUY, was released in March 2015. In July 2016, Poppy Peters made the USA Today Bestseller list.
JLS: Who inspired your writing the most?
AG: One of my earliest memories is sitting in my grandparent's bedroom staring at their bookshelves. They were both bookworms and had these two massive bookshelves filled with novels. My grandma and I would also play a game where one person would start a story and the next person would continue it until we ended up with the most bizarre storylines. I attribute my love of writing and books to them. Growing up, I read all sorts of genres and I still do, but mystery has always had a special place in my heart.
JLS: What challenges have you had to overcome to bring these books to life?
AG: I'm a mom of two small children, so balancing mom life with my writing has always been a challenge. But even though it can be tricky to find the time to work, I do my best to make it a priority because the writing process is very therapeutic for me.
JLS: What encouragement can you offer to others who want to follow their passions (writing or otherwise)?
AG: My advice to other creatives pursuing their passions would be to live life and share your experiences. I, personally, learn a lot from books. Besides being a source of entertainment, books help me put myself in other people's shoes and learn about life from other people's perspectives. Connecting with others through art is extremely important. Please, share your story (via whatever medium speaks to you)!
JLS: Have you lived in the locales you write about? Where do you intend to take us next?!
AG: Yes! I let the places I've lived and traveled to inspire my stories. My favorites are the Rocky Mountains and the Gulf Coast. In future books, I hope to take readers to some international locations in South America where my family is from.
JLS: Food and hospitality proliferate your stories. Do you like to cook or do you just like tempting us?
AG: I absolutely love food! I used to have a side business decorating cakes, so I draw lots of inspiration from that particular time in my life. I'm also very into any kind of food-related TV. I experiment in the kitchen all the time.
JLS: In The Southern Psychic Sisters Mystery series, Ember, Stevie, and Aqua have some pretty interesting otherworldly experiences. Have you had any of your own that you're willing to share?
AG: Yes, I've had several. The women on my mother's side of the family are very intuitive. Ember, Stevie, and Aqua are loosely based on me and my two sisters. While our experiences haven't been as magical, just like in the Southern Psychic Sisters mysteries, it was still next to impossible to hide anything from our mom as teenagers. If we snuck out of the house, she would dream about it. If we lied about ditching class, she would dream about it. You get the idea!

A. Gardner has released several more cozy mysteries for her readers to enjoy including the Bison Creek mystery series and The Southern Psychic Sisters series. When she isn't writing, she enjoys trying out new recipes, cooking for family and friends, and peaceful mountain hikes. After years spent living in eastern Alabama, she made the trek back west again and currently resides in Utah with her husband and two children. Visit A. Gardner at GardnerBooks.com.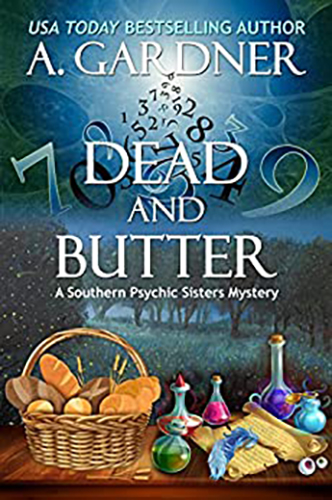 Would you like to win a signed, paperback copy of A. Gardner's DEAD AND BUTTER book, the first in The Southern Psychic Sisters series? I will be picking a winner at the end of the month (May 2022) from someone on my mailing list. Not on the list? You can sign up here and get a gift from me as well.
Congratulations to Pamela S. Thibodeaux! You're the winner of the signed copy of DEAD AND BUTTER. (Didn't win? Sign up for my mailing list to be eligible for future giveaway events.)