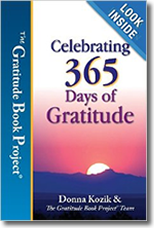 THE GRATITUDE BOOK PROJECT®: International Book Project Has More Than 300 People Sharing Their Stories of Gratitude, with National Book Sale Proceeds Benefitting Three Charitable Organizations
EDINBORO, PA – Rev. Jamie L. Saloff, "The Author's Prophet," is a co-author in The Gratitude Book Project: Celebrating 365 Days of Gratitude, a collaborative book featuring over 300 authors answering the question "What are you grateful for?" in 200 words or less.
The book shares compelling stories of appreciation and evidence that harnessing the power of gratitude can be a life-changing force. The difference between saying thank you (good manners) and living in gratitude (a great life skill), are illustrated in this inspiring, quick-to-read daily guide.
The Gratitude Book Project: Celebrating 365 Days of Gratitude is not only full of thanks but is also brimming over with testimonials to the people, things, events, and circumstances we so often take for granted.
Saloff's contribution compares the hardships of life's tragedies, loss, illness, abuse, and physical pain with the creation of beautiful gemstone jewelry. "We are all diamonds in the rough with the potential of becoming sparkling gems," she writes. "We can choose to see the abrasions of life as a means to expose our many shimmering facets."
A cancer survivor and no stranger to loss, illness, and pain, Saloff enjoys encouraging others through her writing and coaching practice to reach for loftier goals by pressing through difficult life situations. A six-time author, healer, and spiritual counselor, she guides authors, coaches, and other professionals desiring to calm the pain, grief, and conflict in their lives so they can "write more, sell more, and be more." Saloff's books, including Transformational Healing: Five Surprisingly Different Keys Designed to Redirect Your Life Toward Wellness, Purpose, and Prosperity, also carry forward this theme.
In keeping with the spirit of the project, net proceeds from national book sales will be split among three charitable organizations: Feeding America, Women for Women International and the American Society for the Prevention of Cruelty to Animals (ASPCA).