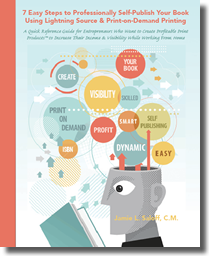 7 Easy Steps to Professionally Self-Publish Your Book Using Lightning Source or IngramSpark:
A Quick Reference Guide for Entrepreneurs Who Want to Create Profitable Print Products that Increase Their Income and Visibility
This quick-to-read guide offers an easy, seven-step overview on how you can become your own publisher and publish books using Lightning Source as your printer, the top print-on-demand company for traditional publishers, university presses, author services companies, and countless micro-publishers just like you.
Inside you will find:
• A 7-step guide to publishing your own book using print-on-demand printing via Lightning Source;
• Cost evaluation worksheets to monitor your profit,
• Frequently asked questions answer guide,
• Reference list, and marketing tips
Why allow a publisher to gobble 94% of your hard earned profits, when you could be pocketing 30%, 40%, 50%, or more? Why sit on your hands with lost sales while you wait for up to two years for your book to hit the shelves? Should you allow an online print provider to dictate your pricing and wholesale discounts when you can be in control of how much you earn? Shouldn't YOU be in charge of your book's design and destiny?
For nearly two decades, designer, consultant, and print-on-demand specialist, Jamie L. Saloff, has walked countless authors through each phase of the publishing process, guiding them every step of the way as they publish Profitable Print Products.™ Saloff has guided men, women, talented teens, gen-xers, baby boomers, golden agers, and even posthumously published authors — regardless of age or technical ability — through these 7 easy-to-do steps.
If you are tired of waiting for a traditional publisher to find you, have tried online publishing services and were dissatisfied, or are ready to go it alone but want to ensure your book will look professional and be available in a global market, the advice in this book will be of value to you.
What Others Are Saying:
"In her calm, caring, unhurried manner, Jamie will conscientiously lead you through self-publishing's rather arduous challenges with gentle, ingenious expertness. She is perhaps the most capable person working in the self-publishing industry, and her gift is helping people." Perry Foster, author of "Hands Upon My Heart: My Journey Through Heart Disease and Into Life."
"My book sales are going up every day. I have sold almost 1000 copies… I can hardly keep up with it all, though it's very exciting." Patricia Kyritsi Howell, author of "Medicinal Plants of the Southern Appalachians"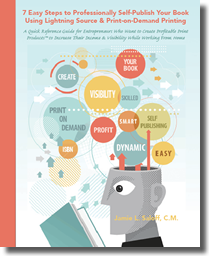 "Partially as a result of Jamie's efforts and sound advice, I save thousands of dollars a year and my corporation's income has nearly doubled. This wouldn't have happened without her." Tom Bird, author and "Write Your Book in a Weekend" retreat leader
Buy Your Autographed Copy Now: only $9.87* plus $5 shipping.
Also Available on Amazon.com and from other fine retailers.


(*USA Addresses only.)